HISTORY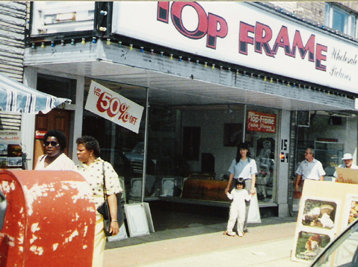 Northwood Collection & Images 2000 Inc. was born in 1984 when an aeronautical engineer, Sam Oskooei, witnessed a unique phenomenon at the corner of an intersection in Toronto.   A series of cars pulled over with people lined up to purchase ART from a local selling out of his vehicle.  With this Sam, and his partner & spouse, Faye, both decided to leave their jobs and take the leap in to the world of art with their opening of a small store in Toronto called, 'Top Frame.' 
Top Frame was propelled by the continuous dedication of Sam and Faye of bringing the best value art and service to its customers.  Soon, popularity grew and requests from all areas began to pour in for the new entrepreneurs.  While 'Top Frame' continued to meet and exceed expectations of its local customers, expansions plans were soon underway as additional markets and opportunities presented itself.  A new enterprise was born called, Images 2000 Inc.
With the tools and resources available, Sam & Faye realized that to continue to exceed its customer expectations, a specialized focus would be needed for its very different customers.  As the market continued to change and consumer preferences in the world of art evolved, the company's focus on its local 'specialty retailer' market garnered great success.  With this, the company developed a separate division and entity called, Northwood Collection.  Today, Northwood Collection specializes in the creation and development of unique and affordable wall décor products for specialty retailers across Canada.  Its combination of superior product engineering and innovative art + design economy has elevated Northwood Collection into a league of its own within the North American Wall Décor market.
Today, Northwood Collection is a Wall Décor company specializing in art + design economy.  Its unique art + design philosophy is backed by an unparalleled Canadian manufacturing engineering platform and a passionate appreciation for art.